MEETING PROGRAMME - SCHEDULE SCHEME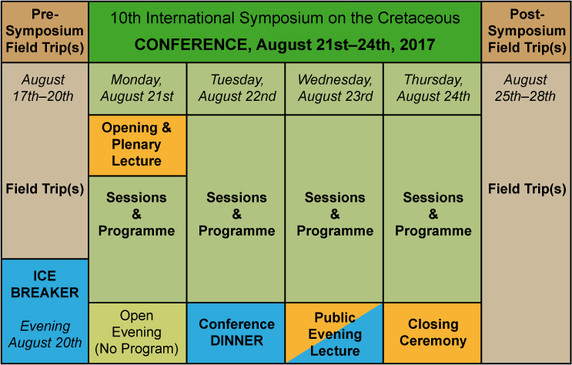 SESSION PROGRAMME (PRELIMINARY1)

T1. CRETACEOUS STRATIGRAPHY


T1. Part 1 – Sessions on the Cretaceous stages and boundary definitions
This session series will also include the Meeting of the Subcommission on Cretaceous Stratigraphy, led by Petrizzo, M.R., Haggart, J., Wagreich, M., Falzoni, F.
T1.S01 Jurassic/Cretaceous boundary and the Berriasian stage and substages
Convenor: Wimbledon, W.
T1.S02+S03+S04 The Valanginian, Hauterivian and Barremian stages and substages
Convenors: Company, M. & Reboulet, S. & Lukeneder, A. & Rawson, P. & Mutterlose, J.
T1.S05+S06 The Aptian and Albian stages and substages
Convenors: Erba, E. & Bown, P. & Huber, B.
T1.S07 Cenomanian* and Turonian* stages and substages
Convenor: Petrizzo, M.R.
T1.S08 The Coniacian stage and substages
Convenor: Walaszczyk, I. & Ifrim, C.
T1.S09 The Santonian* stage and substages
Convenor: Wagreich, M & Summesberger, H.
T1.S10 The Campanian stage and substages
Convenor: Gale, A.
T1.S11 The Maastrichtian* stage and substages and Cretaceous/Paleogene Boundary Stratigraphy
Convenors: Voigt, S. & Haggart, J.


T1. Part 2 – Sessions on Cretaceous Chemo-, Cyclostratigraphy and Climate Changes
T1.S12 Towards an astronomically calibrated time scale for the Cretaceous: Cyclostratigraphy of Cretaceous sedimentary successions
Convenors: Galbrun, B. & Thibault, N. & Boulila, S. & Martinez, M. &
Batenburg, S.
T1.S14+S15 Early Cretaceous integrative methods in stratigraphy and climate changes
Convenor: Lukeneder, A.
T1.S16 Cretaceous sequence stratigraphy
Convenor: Simmons, M.
T1.S00 Open Session on Cretaceous stratigraphy
Convenor: Wagreich, M.
T2. CRETACEOUS SETTINGS AND FACIES
T2.F01 Cretaceous terrestrial/non-marine studies
Convenors: Ludvigson, G. & Sames, B.
T2.F03 Cretaceous Carbonate platforms and shallow-water bioevents
Convenor: Yilmaz, I.O.
T2.F05 Chalk facies and biota
Convenors: Hart, M. & Bailey, H.
T2.F06 Cretaceous Geoparks and World Heritage: Scientific Approach
Convenors: Huh, M. & Alcala, L.
T2.F00 Open Session on Cretaceous settings and facies
Convenor: Császár, G.
T3. CRETACEOUS EVENTS
T3.E01 Mass extinctions, volcanism and impacts during the Cretaceous
Convenor: Adatte, T.
T3.E02 Cretaceous environmental perturbations – Anoxia, OAEs, oxic events, K/Pg boundary
Convenors: Föllmi, K. & Thibault, N. & Yilmaz, I.O.
T3.E03 Deciphering Cretaceous environmental and climate perturbations by means of high-resolution bio-chemostratigraphic and geochemical approaches
Convenors: Convenor: Huck, S. & Frijia, G.
T4. THE CRETACEOUS GREENHOUSE WORLD – CLIMATE AND SEA-LEVEL CHANGES
T4.C01 Cretaceous paleoclimate: proxies and models
Convenor: Thibault, N.
T4.C04 Early Cretaceous climate variations and its impact on paleoecology and paleoenvironmental developments
Convenor: Jäger, H. & Rogov, M.
T4.C05+C08 Climate-environmental deteriorations during greenhouse phases: Causes and consequences of short-term Cretaceous sea-level changes (IGCP 609) + Deep-time super-greenhouse evidence versus anthropogenic climate change and the [future] Anthropocene
Convenors: Wagreich, M. & Hu, X. & Rahman, J.J. & Voigt, S. & Yilmaz, I.O.
& Zorina, S. & Sames, B. & Wendler, I. & Wendler, J.
T4.C06 Asia-Pacific Cretaceous Ecosystems (IGCP608)
Convenors: Ando, H. & Li, Guobiao & Xi, Dangpeng
T4.C07 Comparison between the marine and continental records during Cretaceous greenhouse states (Songliao Basin and WIS)
Convenors: Wu, Haichun & Hinnov, L.A. & Wan, Xiaoqiao & Wang, Chengshan
T5. CRETACEOUS PALAEONTOLOGY
T5.P02 Cretaceous Foraminiferal Micropalaeontology – The State of the Art
Convenors: Simmons, M. & Petrizzo, M.R.
T5.P04+P05 Cretaceous biodiversity (micropaleontology/macropaleontology)
Convenor: Khosla, A. & Thibault, N.
T5.P06 Cretaceous vertebrates
Convenors: Cifelli, R.L. & Benton, M.
T5.P07 Palaeobotany and Palynology
Convenor: Herman, A.
T5.P00 Open Session on Cretaceous palaeontology
Convenor: Wilmsen, M.
T6. CRETACEOUS HYDROCARBON AND MINERAL DEPOSITS
Convenors Simmons, M. & Okay, A. & Tari, G. & Chellai, El Hassane &
Nabawy, B.
T7. CRETACEOUS GEODYNAMICS AND OROGENY AND THE EVOLUTION OF THE TETHYAN REALM
Convenors: Hu, Xiumian & Tüysüz, O. & Bulot, L. & Linzer, H.-G.
WORKSHOPS, MEETINGS AND SHORT COURSES
W1 IUGS Lower Cretaceous Ammonite Working Group - Kilian Group (Reboulet, S.), scheduled for August 20, 2017, Natural History Museum Vienna.
W2 Deutsche Subkommission für Kreide-Stratigraphie (SKS) (Wilmsen, M.)